Hello vapers!  


Finding his/her daily e-liquid can sometimes become quite complicated, as the choice is getting bigger and bigger: there are multiple brands, manufacturers, and sellers.


Once downloaded, the following file will allow you to save some time.
.
previous versions:
5st update on October 02, 2014 (V 1.5 ) : 400 shops / 730 e-liquid brands / 16 countries
V 1.5 , Click here to download
To use it, you need a software that can read . xls files .xls .
If the EXCEL software does not appear in the list of installed programs on your computer, you can download its free version: OpenOffice:  ,
OpenOffice
: http://www.commentcamarche.net/download/telecharger-92-open-office
This file is as simplified as possible for an easy use. There is a list containing three columns :  
-The first column contains the names of the shops you can find on the Internet
(if you click on a name, your browser will automatically open the corresponding site (these are hyperlinks)) )
)
-The second column contains the brands of e-liquid that are sold by these shops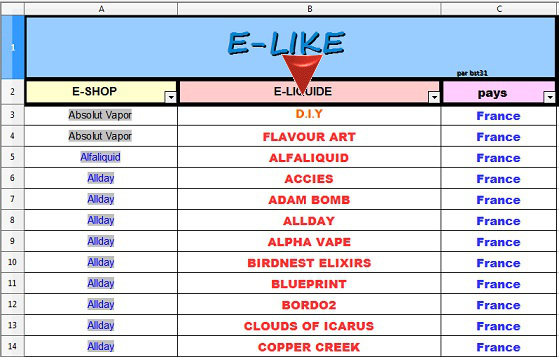 - Finally, the third column contains the name of the country where the shop is located. .
The arrows that are at the top of each column open a drop-down menu that allows you to make a search.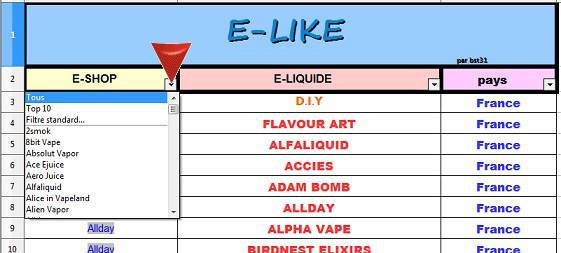 You can search by site, by e-liquid brand, or by country.
You can also combine these searches. For example, first select a brand, then make a search by country to easily find the nearest relevant E-liquid.
To make a new search, change the 3 drop-down menus to their initial position (first line "tout").
I hope this file will be useful to you. Enjoy your vape!
This text was translated by Marie-Luce B , thank you for it
BST31